Students who manage learning in a personal, participative and inclusive way, who find the method of learning and get used to accessing content in a structured and constant way, thanks to a responsible and positive attitude, integrating error as part of their learning.
Students study compulsory subjects from ESO Year 1 to Year 3 and they can choose from the following elective subjects:
ITC
French, German or Chinese
In 4th ESO we prepare the students for the option of academic teaching:
Students can choose in the between the following core subjects:
Biology and Geology / Economy
Physics and Chemistry / Latin
Oriented itinerary to Sciences Baccalaureate or Social Sciences
In the Block of Specific Subjects we teach Chinese, French or German and ITC.
The distinguishing features of the Secondary Stage of our school can be included in the following blocks:
AREA OF LANGUAGES
---
Our students follow the Spanish curriculum but much importance is given to the English language as it is taught ten hours a week of English in 1st and 2nd years of Secondary, eight hours a week in 3rd year of Secondary and 6 hours a week in 4th year of Secondary. In 1st year of Baccalaureate  they receive four hours a week instead of the three required hours in the Spanish curriculum.
Our method of working requires structural innovations in order to achieve a greater efficiency and continuity of the bilingual system in Preschool and Primary:
In the First and Second Cycle in Secondary, compulsory and optional subjects are given in English.
In English language (as a subject), classes are divided into levels (in different classrooms with different teachers and with differing, planned learning outcomes according to level), so that everyone can progress at their own rate.
Students are prepared during class time for official English exams in B2, C1 or C2, according to level.
All our students are given the option of taking part in linguistic and cultural immersion programmes through a cultural exchange for one or two weeks in a school in the UK, Ireland or France, or linguistic stays from one term to a hole school year in an Irish School or eight weeks in France.
In Secondary, the second language choice in school can be French, German or Chinese, the student will have to take that decision with his parents in the 1st year.
Regarding the structure used for French, that is taught from 1st of Primary:
All students are required to prepare for the A2 level, as mandated by the Conselleria.
All students can volunteer for the A1,A2, B1 or B2 according to their interests and needs.
All students take part in a week-long, linguistic immersion trip to France where an intensive French programme is studied.
AREA OF SOCIAL SCIENCES
---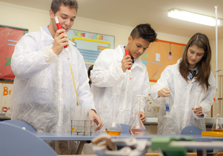 Once a week, , in 1st and 2nd of Secondary, the class is split for Maths to teach advanced calculus as part of the Mathematics for Everyone project. Also in Secondary, students prepare for Maths and Robotics Days.
From Secondary Year 4, Physics and Chemistry are taught separately, thus achieving a deeper understanding of both subjects.
As a key part of science studies, laboratory practice is carried out both in the Center and at the University.
As a part of the curriculum, High School students are prepared for the Olympics in Biology, Chemistry, Economics and Geography, as well as the Model European Parliament Competition which requires investigation work and public speaking in Spanish and in English. In conjunction with the work done in preparation for this competition, students also take part in the Law School's Debate Competition, and in Eurostory.
In Secondary, Finance is taught as a subject which then turns into Business Economics and Economics as an optional subject in High School. In this subject, students learn basic knowledge of macro and microeconomics and are also given an introduction to the setting up of businesses, culminating in students setting up their own cooperatives and applying the entire financial context to a practical exercise for a whole year.
AREA OF LANGUAGE, LITERATURE, DRAMA AND PHILOSOPHY
---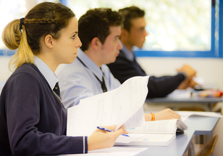 As in mathematics, throughout Secondary, Spanish Language is split into two classes once a week to focus on advanced studies and take part in workshops, as part of the El Poder de la Palabra project.  As part of the advanced programme, stories are prepared and presented at internal and external competitions, like the Fundación Maniel Short Stories Competition. Also working a methodology based in the dialogue, from 1st of Secondary, preparing them for the School Discussion Competition at the end of Secondary.
Consequently, one of our priorities is to encourage written expression and creative writing, culminating in the Literary Excellence Project in which students, assessed by the author Miguel Aranguren, publish articles on the internet and compete against other schools in Spain. Other literary contests are The Autumn Stories Contest, Paper Rose and Letter to a Spanish Military.
Using dramatization resources, literary and production techniques, Secondary students prepare Storytelling and/or plays which are presented to Preschool students. At High School level, students put on a theatrical play with a large scale production and major interdisciplinary work.
In this area, as part of the curriculum, High School students prepare for the Philosophy Olympics and for the Spanish Linguistic Olympics held in Valencia.
PROMOTE SKILLS AND PERSONAL ACHIEVEMENT BASED ON STUDENTS' INDIVIDUAL ABILITIES  
---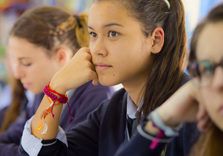 The teachers are fully aware of students' attitudes and strengths through measured gauging of their intellectual capacities and, as such, possess the necessary tools to work efficiently alongside students. The tools they use incorporate many influences (such as, Cooperative Learning, Multiple Intelligences, Project Based Learning…) nevertheless resulting in our own, personalised system.
Reading skills are a priority and a fundamental tool for all students. Measures are taken and solutions are implemented to improve these skills with any results. (Participation Project I-Start with Valencia University).
The IALE team encourages a culture of maximum effort so that students are able to reach the highest peak of their capabilities.
SPORT PROGRAM  
---
Healthy life and physical exercise are habits we work from the early years at school.
Our installations and our experience with the elite tennis players for more than a decade have made us consider as necessary and  positive  for our students these values derived from the usual practice of team sports: sacrifice, cooperation, responsibility and empathy.
Each moment of school life affects some aspects or others. Secondary students add a team sport into the curriculum which can be chosen out of four: Hockey, Volleyball, Football and Basketball. This sport is practiced on Monday afternoons during school hours and adds to the official hours of Physical Education.
MUSICAL PROGRAMME
---
Students receive information and training in music and scenic arts thanks to the concerts and plays which we put on every term during school time and which, to date, have spanned many genres, such as: classical music, rock, hip hop, jazz and pop.
All Secondary students from the First Cycle play a musical instrument which they choose from a selection of three or four instruments offered by the Music department. They will play this instrument all through Primary and they will learn and practice it into the curriculum , and they will be able to keep playing it during or at the end of the First Cycle of Secondary and continue practicing this instrument in the Music School we got into our school.
The Secondary Music School is a way of learning to play and/or perfect different instruments, from piano to guitar, trombone, drums, etc.
HUMAN PERSONAL AND SOCIAL DEVELOPMENT BASED ON VALUES
---
The ideal student, as proposed by the school, is undoubtedly a person is who is fully-rounded in all areas and fields but, above all, someone with a social development based on values and personal growth, ready to face challenges, along with a critical spirit to help them decide at any moment what suits them. To achieve this:
Teaching staff work vertically to put together a plan of work for development.
The teachers interact with the youngest students of the age range and school transmitting experiences, promoting mutual respect, responsibility and implication, preparing activities for Halloween, Book Day…
All students participate annually in at least a Solidarity Program ( Indian School, the park in La Fe Hospital in Valencia…), that year after year agrees the Management and Teaching Team with the students. Students are involved in volunteer programs with which we participate and collaborate with various foundations and associations (Vicente Ferrer, Play Therapy…), but specially at the level of training and information we have Dasyc for Baccalaureate.
We educate our students in a comprehensive way by promoting a solid bilingual academic education based on values.