The different types of Baccalaureate focus on preparing our students for higher education. At Iale we offer the following modalities (classes taught entirely in Spanish) , each with its own two options:
Humanities and social sciences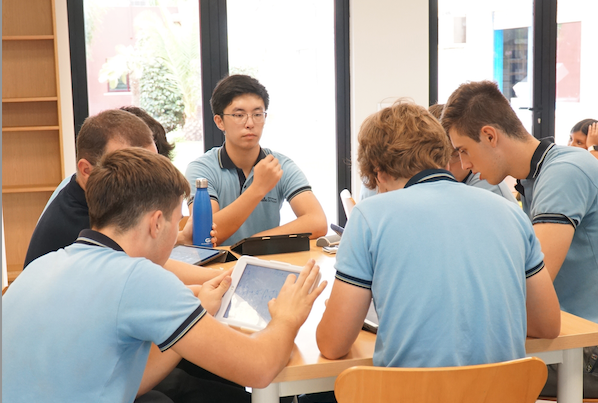 All our students are prepared curricularly and are given the option to participate in the Biology, Philosophy, Chemistry, Physics, Economics and Spanish Linguistic Olympiads.

Preparation for the Law School Debating Competition.

Students who started school with us in Infants prepare for the official English exams (Trinity levels 10 to 12 Cambridge C1 and C2).

Work experience at the university.

University guidance by professionals and public and private universities.

Participation in and creation of short stories and opinion articles for the Excelencia Literaria competition.
At our school we are committed to an International Education, which is why we offer the possibility of taking the American Dual Baccalaureate, an official programme of international validation of high school diplomas which allows students to obtain two simultaneous qualifications: the Spanish Baccalaureate and the American High School Diploma.

The programme can be taken over a maximum of four years (ESO 3 - BACC 2).

Students of the Dual Diploma only have to take 6 subjects to obtain the American qualification.

Of these 6 subjects, 4 are compulsory and 2 are elective, which allows students to take subjects of considerable interest that are not found in the European syllabus and provide extra motivation for students, enriching their vocabulary in subjects that they would not normally study in English: Digital Photography, Criminology, Psychology, etc.

The program is taught entirely in English but goes far beyond simply learning the language. Students think and work in English, take part in lectures and can communicate daily with native teachers, take part in live sessions with other students and defend themselves independently in English, thereby increasing their confidence and skill.

Technology immersion results in mastery of the most advanced technologies in virtual learning. Students play an active role, set their own learning pace and are responsible for building their knowledge and playing the leading role in their own training process. Virtual education develops critical thinking and research and information-analysis skills. Students play a more active role in their own learning process, as they not only receive instruction from the teacher but also learn through the process of searching for information, self-reflection and diferent activities that they carry out on their own and in cooperation with others.
We educate our students in a comprehensive way by promoting a solid bilingual academic education based on values.