The defining characteristics of the Primary stage at our school can be summed up in the following areas:
CURRICULAR AREAS IN OUR PROGRAMME

---
Castilian Spanish
Mathematics
Physical education
English
Science&History
Religion
Music
Musical Instrument
Arts&Crafts
ICT
Mandarin Chinese
French
Valencian
Valencian Culture
Human Development
Spanish-English Bilingual Programme
Our students study the Spanish curriculum but use English as the vehicular language, benefitting from the assimilation of Spanish content while gaining fluency in English which is taught as a first language using British content, as well the content found within the Common European Framework.
All subjects, except foreign languages (which are taught in the appropriate vehicular language), P.E. and Maths, are taught in English.
DEVELOPMENT OF STUDY HABITS AND RESPONSIBILITY


---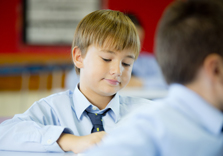 From the beginning of this stage, students are conscious of their role as students and take responsibility for their own learning process, developing learning techniques and study habits which will assist them throughout their entire student lives..
Primary is the stage when all these study techniques which facilitate learning are taught (planning, summarising, conceptual maps, mnemonic techniques, etc.). From Primary Year 1, students learn to include the 'what' and the 'why' to later put them into practice and reinforce them, alongside appropriate time organisation and distribution.
We apply a weekly system of tasks so that students are able to plan on Thursdays what they will need to study or work on the following week. This encourages responsibility, for as far as these activities and family organisation are concerned, each student is able to plan their own time from the age of six.
PROMOTE SKILLS AND PERSONAL ACHIEVEMENT BASED ON STUDENTS' INDIVIDUAL ABILITIES

---
Teaching staff are aware of the abilities of each student, gauge through measuring, and they work to achieve the highest level of improvement within their capabilities, or to develop resources to make up for any lack of these.
A variety of methodologies are used within the classroom, always meeting the needs of different learning styles and intelligences, as a whole class, in small groups or split classes. Students are able to reach their optimum level based on their possibilities by taking variety into account and by valuing individual work and effort in line with their own skills.
MULTILINGUALISM: VALENCIAN, CHINESE AND FRENCH

---
All our students work within the programme, following the curriculum and independently of English, in these three languages.
Valencian is studied from Primary Year 1, Mandarin Chinese from the age of three to Primary Year 6, and French from Year 1 until the end of Secondary.
Students are given the opportunity to sit official exams in these three languages.
MATHEMATICS AND LOGICAL REASONING PROGRAMME


---
Two sessions a week are given over to the psycho-pedagogical specialist to dedicate time to the development of logical mathematics and problem solving.
Maths for everyone: From the second cycle in Primary until the final year of Secondary, an extra hour of maths is added, in which classes are split into two to study either basic calculus or logical mathematics.
The aim of the programme is that each student is able to evolve in line with their abilities and that any so called 'maths phobia' is eradicated by dealing with calculus 'black spots' that have developed over the years. At the same time, there is a group of students who excel above the norm and thus promote the logical strategies needed for problem solving.
HUMAN DEVELOPMENT BASED ON VALUES

---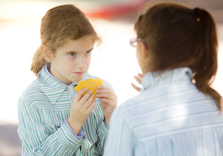 In a vertical manner, the teaching staff develop a plan of work on the development of values. It's a fundamental part of our Educational Plan which aims to help students develop holistically so that they are ready to meet challenges and possess a critical awareness that helps them decide what is best at any given time.
The values that we promote as key are solidarity, tolerance, respect, creativity, honesty, cooperation and helping others.
Every year, ALL students take part in a Solidary Project which is agreed upon by teachers and students together.
MOTIVATION AND RECOGNITION PROGRAMMES


---
Tools are used to strengthen students' self-esteem and make them feel capable of any goal they set themselves.
Some students are placed in charge for the day, nominated for their exemplary development in a different aspects: education, effort, English, French, P.E., etc.
Interclass championships, which take place throughout the year, facilitate cooperation between classmates and reinforce team spirit.
AWARENESS OF DIVERSITY: CURRICULAR ENRICHMENT


---
Inside the classroom, work is done in levels. High ability students who excel in any subject, carry out different work to the rest of the class, in order to maximise their skills. The type of work given is based on investigation and extension, giving them the opportunity to continue growing in each of these disciplines.  Similarly, students who need further support receive any additional help needed.
ICT WITHIN THE CURRICULUM


---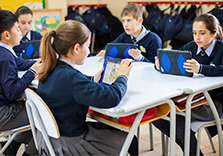 Primary students work ICT. While our students acquire digital skills, we provide them enough tools to be able to start building their own PLE (Personal Learning Environment),which will help them put into practice these skills acquired throughout life, being able to fix themselves their own learning objectives.